The Chronicles of Zippy
Presents are all open. Is it time for egg nog now?
We have discovered egg nog. It is quite possibly Daisy's most favorite thing in the whole world.
I'm pretty sure one of these is for me.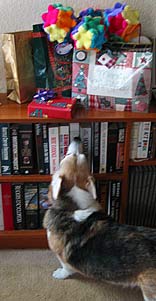 Maybe they all are!
You can see a video of this incident. Shortly after this happened, all the presents got moved.
Raining, raining, raining.
Don't like raining. Mad at raining.
How to play Cabin Fever: Lie on side, look out window. Grumble. Wait seven minutes, roll over. Lie on other side, look out window. Grumble. Approximately every four minutes, sigh heavily. Repeat as necessary.
My folks have added some new costumes to my Paper Doll. You have no idea how happy I am that these aren't real.
My name is Zippy, but I have many nicknames. Here a just a few:
Zipster
Zipster Buddy
Zipperhead
Zippy the Yippy
Zippy the Puppy
Zippy the Poopie
Zippy the Yippy the Poopie the Puppy the Zippy the Yippy the Dog (yes, all at once)
Goofy Thing
Adoradog
Ya Big Bug
One Pig (based on my folks' contention that they have one dog and one pig)
Gorgeous Boy (which almost makes up for One Pig, but not quite)
Sugarplum
Barkeroid
When I was a baby puppy, I thought my name was 'ZippyNo.'
Copyright ©1997-2023 Zippyweb: Fun stuff for Corgi fans. All rights reserved. Zippyweb is our trademark and service mark.